( Yoshikitty)
~All About You~
Mother and student. I'm not too interesting. Just like to have fun and meet friends
Your Name
: Artemis
Your Age
: 30
Your Email
: bracz084@live.com
~Your Muse~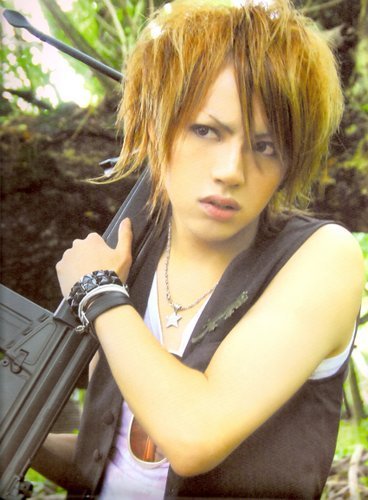 Name
: Shou
Age
: 25
Band
: A9
Height
: 5'10"
Rank Preference
: Omega
Sexuality
: Pansexual
Position
: Natural Omega / Submissive unless with a woman.
Description
: Shou is effeminate with delicate features. His eyes are a light brown, and his gaze wide open. Light pink lips, thin straight nose, and beautiful smile. His hair is blond with brown low-lights.
He is tall for an omega. His body is elfin slender though, making up for it. His fingers are long and slender. In his lupine form, he is a shaggy, long haired wolf with small patches of black near his paws.
Personality
: Shou initially comes off as shy and a bit sweet, almost child like. This changes quickly once getting to know him. He can be a prankster and a little shit, known for biting tails and running.
When angry, Shou's temper rages quickly and hotly. He often gets himself in trouble with the Alphas because of it.
Likes
: Strawberries, sunbathing by the river nude, and baking human sweets the few times the supplies are available
Dislikes
: The alpha and beta posturing. Seriously, can't they just stop for like, a week.
Strengths
: Great cook and is rather good with the pups. He can also, when not having a tantrum, talk down two bickering wolves of equal standing. Smart enough to stay far away from challenges.
Good Weaknesses
: A sucker for romantic or sweet overtures. Give him flowers or fruit or a soft pelt and he'll roll over for you easily
Bad Weaknesses
: Extremely easy to have a tantrum and very sensitive.
History
: Shou was born human. He was the child of one of the hunters of the southern human village and a baker. His childhood was good, filled with joy and love. When he was ten though, his father, while out hunting, was killed by the southwest pack. Being the only boy of his parents, and filled with grief and rage, he grabbed his fathers sword and decided to hunt down the wolves responsible.
He was captured by one of them, another hunter who took pity of the scrawny, mouthy human boy he found, and brought him to their leader. The leader decided he should be changed, and was bitten there and then. His hatred for the pack that now claimed him only grew. They had now taken his father and himself from his mother. And on top of that, it quickly became clear he was an omega. For 13 years he was hidden away in the dens, not allowed out unguarded, and treated as a toy.
Resentful of the pack, he convinced the alpha to let him go out and search for sweet spices, claiming he was going to make a treat for him. He took the chance as soon as he could and ran, finding himself a stranger in the territory of the largest pack. He could not feel fear as he was captured yet again and taken to this new alpha.
Ritual
: Shou looked around and he was brought before the Alpha. He bared his neck as expected, showing the alpha he recognized his position. His eyes however rarely left the form of the wolf in front of him. For the first time in Shou's life, he felt truly like he was standing in the presence of a superior. He took the chance and kneeled, finally looking away from the Alpha.
"Please Alpha, I seek refuge and a new pack. I know you have no reason to let me live, or to take me in, but please do, I beg you. I can no longer stay with the pack that murdered my father. I will do whatever is asked of me."
who are we? We are the pack